Lake Okeechobee Family Fishing
Lake Okeechobee is a world renowned bass fishing lake. If you have never fished Lake Okeechobee before, you have to once in your lifetime. Not only is the bass fishing exceptional all year round, the nature and wildlife are amazing to experience. Each location whether Clewiston on the southwest side of the lake or Okeechobee City on the north side of the lake will provide you with a unique experience. Discover what Lake Okeechobee Family Fishing can offer you next time visiting Florida.
Captain Mark Shepard is a legend on Lake Okeechobee that focuses strongly on the Clewiston area. Years of experience on this beautiful lake has provide him with many blessings. Leon, Sandra and their two kids Novee and Chloe went out on a Lake Okeechobee Charter out of Clewiston.
One of the best parts about this fishing trip was that they never caught fish before. It was Novee birthday and she wanted to go Lake Okeechobee Bass Fishing. Captain Mark stated "This is Why I am a Fishing Captain" while providing details of this amazing trip. It was so much fun with lots of excitement with special and wonderful people.
Nothing beats a quick 4 hour fishing trip landing several quality largemouth bass. Family Fishing as such truly brought back childhood memories for Captain Mark. "It was an adventure of a lifetime and I was honored to be a part of it." Captain Mark will be looking forward to their next adventure on the water. Get your kids fish and it could possibly change their whole outlook on the outdoors and life.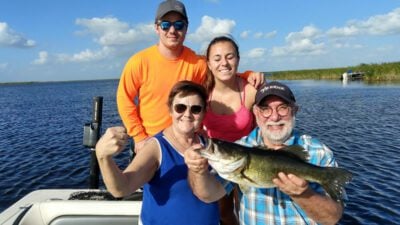 Okeechobee City is also another fantastic destination to take a Lake Okeechobee Family Fishing trip. Captain Mark Rogers was out on the water with the Merkel Family while they were traveling from Canada. They had a lot of fun bass fishing Lake Okeechobee with wild caught live shiners.
There was a slight breeze which helped the bite turn on and cool down this warm fishing day. It was a great bite with fish all day long. The Merkel Family landed over 20 bass with two great ones weighing 5.5 and 4.5 pounds. It was also their first time fishing Lake Okeechobee which made it a special trip.
Everyone caught bass on the Lake Okeechobee family fishing trip and they are looking forward to coming back to fish it again in the future. Lake Okeechobee will continue to be a great destination to take your family or loved ones on a fishing adventure of a lifetime. Don't count out our warmer months to enjoy a beautiful day on the water exploring what it has to offer.
Come Catch Yours with Captain Mark Rogers onLake Okeechobee.
If you enjoyed this post with Captain Mark Rogers, you might also enjoy this fishing report from the same area.
Don't forget to follow us on Facebook and YouTube.